CHAMPIONSHIP SHOW RESULTS
SUNDAY 3rd AUGUST, 2019
Brodsworth Miners Welfare Hall, Welfare Road, Doncaster. DN6 7PP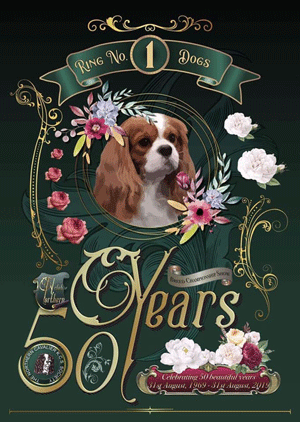 DOG JUDGE:- MRS. E. HURLEY (Lahume)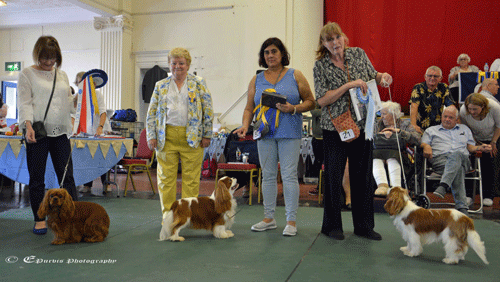 BEST IN SHOW - Beaudale Here We Go Again

RESERVE BEST IN SHOW/BEST OPPOSITE SEX - Verheyen Heike

BEST PUPPY IN SHOW - Jolainey Finlay
Dog C.C. - Smith's Beaudale Here We Go Again
Reserve Dog CC - Hughes Loranka's Glory Days

Best Puppy Dog - Coole's Jolainey Finlay
Best Veteran Dog - Maclaine's Ch. Lochbuie Cappuccino
Best Vintage Dog - Walker's Korolevsky Iosif ShCM
JUDGES CRITIQUE
Firstly I should like to sincerely thank the Committee for the special Invitation to Judge at your 50th Anniversary Show, especially as I had the great honour many years ago to judge my first breed Open Show in the UK for this Club, so I particularly felt it a great honour to return for this special occasion.
My thanks to my Stewards who kept everything in order enabling the day to run efficiently and smoothly, and a very special THANK YOU to all of you who gave me the privilege of judging your CAVALIERS.
I was delighted with the overall quality of the dogs on the day and had some difficult decisions to make in many classes, in general size appears to have reached a happy balance and without doubt that is due to the careful breeding programs by all of you.

VETERAN DOG:
1ST 82 Ch. LOCHBUIE CAPPUCCINO A beautiful Ruby with classic male head, soft melting expression sometimes hard to achieve in the ruby, Lovely balanced outline, good angulation which showed when he flowed around the ring, and presented in superb condition.
2nd 37 Ch. CHANTISMERE PUSH MY BUTTON JW SCHM a 7r old Bl. Boy similar in size to winner, but slightly heavier overall, with good head, dark full eye giving soft expression. Moved with confidence around the ring.
VINTAGE DOG:
1ST 148 KOROLEVSKY IOSIF SHCMN almost 12 yrs of age and in excellent condition overall, Good neck and shoulders, good dark eye and expression, and moved around correctly and with ease.
2nd 85 MAIBEE PERFECT TOUCH OF CHARNAVALE JW 11 yr old Bl. Male, again carrying himself with ease on the move, good size, nice angulation, good head and nice expression.

MINOR PUPPY DOG:
1st 7 9 mth old lovely quality puppy, with lovely male head good dark eye and pigment. Well made overall with nice angulation, carrying himself steadily with level topline and moving correctly both ways.
2nd 57 GRANASIL GARIBALDI Ruby boy nicely balanced in outline, nice head soft expression and dark eye, moved well.

PUPPY DOG:
1st 21 JOLAINEY FINLAY a beautiful 9mth old Bl. Boy, so well made with lovely body, good rib, nice angulation, good bone. His head was his crowning glory with lovely dark eye and soft expression, he moved so well and with confidence. Was pleased to see him best Pup in Show later.
2nd 155 GRANASIL TRICK OR TREAT FOR NARVIDAR 9 mth old again of nice size, full of enthusiasm, with good head and expression, nicely balanced and moving well, a confident puppy.

JUNIOR DOG:
1 126 PASCAVALE HAIDEN A Beautiful Bl. Boy of quality with attractive typical head and expression, well balanced, nice angulation, moving correctly and freely
2nd No 123 RUSSMIC TIMOTHY a Ruby boy, excellent in size with a quality head dark eye and nice expression.

YEARLING DOG:
1ST No.135 LOVETRAC SHELBY AT LLAPSTTAM Bl.Male of good size, presented in good condition, with nice head and expression, but his movement was not his forte today.
2nd 117 LYNMILY PRIDE AND JOY FOR MARLROSE Bl. Boy, a little larger than I prefer, with nice head good dark eye,, and again his rear movement let him down badly.

NOVICE DOG:
1ST 127 PASCAVALE KYLE an excellent quality male overall with lovely male head and soft expression, good bone and angulation which showed when he moved with plenty of drive around the ring
2nd 116 SVENA WITCH HUNT a Ruby boy of excellent size overall, dark eye, good pigmentation, correct bite, balanced in outline and moving well, just preferred the head of the winner .

GRADUATE DOG:
1ST 130 BEAUDALE HERE WE GO AGAIN well all I did when finished examining this young male was mark 2 big xx against his number and said WOW to myself, A beautiful boy who filled my eye as he swept around the ring even before I put a hand on him, and he fulfilled all my expectations when I did, He is correct size, with a wonderful Ruby head, and soft expression, lovely lustrous dark eye, correct angulation, presented in beautiful condition, and he moved around like he carried a crown on his head, I just wonder way back in his pedigree is Ch,Cadeyrn Black Tulip a contributor as he always had that same movement. Delighted later on to award him the CC and finally after the Referee was called to see him go Best of Breed. One I will follow in the future, and one I would love to have in the ring myself.
2nd 128 KINVAAR JUMPING JACK FLASH AT EVERSBABES a Bl. Boy of good size, with nicely balanced body and outline, very nice head and expression, good angulation, and moved correctly both too and fro.

POST GRADUATE DOG:
1ST 113 RICKSBURY ROYAL HERITAGE a lovely quality Bl. Boy who also got an x in my book, and again I found a lovely quality boy of correct size outline, angulation, with a lovely male head and soft expression, and who knew how to use the ring moving freely and correctly. Another one for me to watch.
2nd 104 EMBETH WISHMAKER Bl. Boy correct size nice head, good front and rear, moving freely and with ease around the ring.

LIMIT DOG:
1ST 93 CHANTISMERE CHAMBERLIN a lovely Bl. Boy in good condition, nice body good rib, overall well made carrying good topline on the move, lovely dark eye and nice male head and expression.
2nd 27 SALEGREEN BRECON Bl. Of correct size, carrying a little more weight than winner, but nonetheless a nice dog with good male head, correct eye dentition, nice in outline, and moved correctly around the ring.

SPECIAL OPEN B/TAN RUBY:
1ST 131 BEAUDALE STORM IN A TEACUP a lovely Black/Tan boy in mint condition, with the lovely melt your heart expression, excellent male head, softest of dark eyes, nice spring of rib, good balanced outline carried well on the move.
2nd 133 KORRAINES PEAKY BLINDER AT LLAPSTTAM another B/Tan boy very similar to winner, but for me just preferred the head and expression overall

SPECIAL OPEN BL/TRI:
1ST 128 KINVQAR JUMPING JACK FLASH AT EVERSBABES see prev. class
2nd 129 PASCAVALE BIJOU a Bl. Boy with nice outline, good size, nice head and e xpression, moving not quite as well as winner today.

BREEDERS DOG:
1st 5 CHARLOTTETOWN MIDAS TOUCH slightly larger for me but nicely portioned and well made boy, good spring of rib, good head and correct expression, nicely marked and moved with confidence and correctly around the ring.
2nd 147 SPINDLEPOINT PRESIDENT Bl of good size with correct head, dark eye correct bite, his movement lost him a 1st place today.

OPEN DOG;
1st 52 LORANKAS GLORY DAYS 2 yr old male in peak condition of correct size with, beautiful head and expression, a pleasure to go over, as everything was just spot on, he had correct angulation and this showed whilst he moved around the ring, was pleased to award him the RCC at the end of the day.
2nd 83 CZECH CH NICKOLAS MINOWARA a B/T boy with so little between the winner, one of my difficult decisions, but for the overall picture of head and expression, just slightly preferred the winner of the class. I am sure they may change places many times

CHAMPION DOG
1ST 125 PASCAVALE GINO , Bl. Beautifully balanced in outline, of correct size, with good male head softened by nice dark eye and expression, correct angulation and moving correctly at all times.

Thank you once again to all the exhibitors for your entries, it was such a pleasure to judge each and every one, congratulations on all your presentations they make me so proud to have been part of your 50th Year Celebrations, and a very special thank you to the Officers and Committee for the wonderful Invitation, much treasured in my memory box.