Diary Pages - Event Details 2009
Limited Show
Judge:- Mrs. Anne Bayliss (Castlewitch)
on Saturday 24th January, 2009
at Thorpe Willoughby Village Hall,
Leeds Road, Thorpe Willoughby, Near Selby. YO8 9NA
**************************
Seminar
Talk on Estimated Breeding Values
by Dr. Tom Lewis and Dr. Sarah Blott of the Animal Health Trust
The Northern Cavalier King Charles Spaniel Society and
The Humberside Cavalier King Charles Spaniel Club
have joined together and would like to invite their members and any interested parties to attend the seminar FREE OF CHARGE.
To be held on Sunday 8th February, 2009
at the Grenoside Community Centre, Main Street, Grenoside. S35 8PR
10.30 a.m. Tea or Coffee on arrival
11.00 a.m. Talk on Estimated Breeding Values
Questions
1.00 p.m. Soup & Crusty Roll. Tea/Coffee
If you would like to reserve a place, please contact either of the Secretaries below
Northern Secretary - Mr. Ian Sidgwick (01228) 561209
Humberside Secretary - Mrs. Linda Flynn (01205) 760374
Directions to the Venue
From the South - Leave M1 at Junction 35 and turn left onto A629, after approx. 1/2 mile turn left onto Nether Lane. Continue on and cross the A6135 onto Mill Road then left onto the B6087 - Church Street - which becomes Town End Road which in turn becomes Wheel Lane. At the junction with the A61 cross over onto Salt Box Lane. Take the 3rd road on right turn onto Main Street and the Community Centre is in apporx. 1/4 mile on the right.
From the North - Leave the M1 at Junction 36 and turn right onto the A61 - Westwood Road, continue straight on at the roundabout - Westwood New Road - Penistone Road, continue for approx. 4/5 miles and on entering Grenoside (Norfolk Arms Pub on left) turn right onto Norfolk Hill. At top of hill turn left at cross roads onto Main Street and the venue is on the left in 1/4 miles. (If you miss Norfolk Hill, you can turn right in 500 yards onto Blacksmith Lane and turn right at junction with Main Street and the venue will be on the right!).
**************************
A.G.M & Members Supermatch
(held under KC Rules & Regulations)
at
POOLE VILLAGE HALL, POOLE IN WHARFEDALE, N. YORKS.
on
19th April, 2009
commencing at 11.00 a.m.
MYSTERY JUDGE
Competition open to all members whose dogs have qualified by winning a 1st, 2nd or 3rd
at the Society's Limit and Open Shows in 2008
Tickets available for 3 course lunch
£6.50
from Karen Sandlan or Elaine Waddington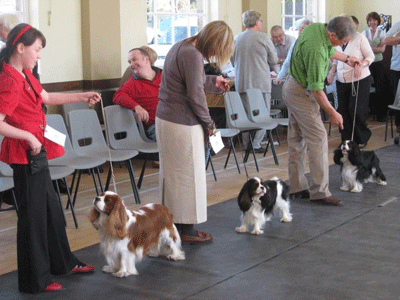 Best in Match Line Up
***********************
Championship Show
Judges:- Dogs ~ Mrs. Lynsey Gow (Lyncraeg)
Bitches ~ Mrs. Ann Moffat (Milkeyn)
Referee:- Mrs. Jill Owens (Parkwall)
on Sunday 2nd August, 2009
in the Prestwood Centre, Staffordshire County Showground,
Weston Road, Staffordshire. ST18 0BD
**************************
Breed Specific Judging Seminar
Saturday 31st October, 2009
from 10.00 a.m. - 4.00 p.m.
at Blackburn Hall, Rothwell, Leeds.
Cost £18.00 for full day including Lunch.
£10.00 Hands on Assessment only (from 1.00 p.m.)
Programme
Tea/Coffee on arrival followed by a talk on the Breed Standard by Mrs. Virginia Barwell (Charlottetown)
Judging Assessment for interested candidates
followed by Lunch
K.C. Hands On Assessment -Points of the Dog
For further information and/or to request a place please contact
The Club Secretary - Mr. Ian Sidgwick or Vice-Chairman - Mrs Lorraine Gillhespy
Tel. Nos. (01228) 561209 or (0191) 3711523
**************************
Open Show/Health Day
Judge:- Mr. John Tranter (Johnjo)
on Sunday 8th November, 2009
at Bowburn Community Centre, Bowburn.
Free Heart Testing by Simon Swift (Cardiologist)
Eye Testing with Certificate - Open to all breeds by Malcolm Davidson
Cost £26 pre payment required.
Microchipping service available - cost £10 payable on the day.
Kennel Club Registration Certificates required for each dog.
Please return booking form for Health Testing with your entry for the Open Show before 12th October, 2009. (download booking form here)
**************************
For Previous Years Results & Information